My New Book, Career Coach- A Step By Step Guide to Help Your Teen Find Their Life Purpose
"Your work is going to fill a large part of your life, and the only way to be truly satisfied is to do what you believe is great work. And the only way to do great work is to love what you do"–Steve Jobs.
For many years, I had wanted to write a book that would help teenagers find their life purpose. As a teenager and young adult, I myself struggled knowing what career path to take in life. Over the years, I met many people who were searching for a satisfying working life.
Then one day, when looking out of a high rise building on a rainy day in London, I had my " Aha" moment. I asked myself, "What teenager would read a book on how to find your life purpose?" I answered, "None, but their parents would!" In a flash, I had connected with the influential role parents have on their teenager's career choice. I decided to dedicate my time to looking at the subject of parents and their teenager's life purpose.
The result? I am happy to announce that in 4 weeks time Gill and Macmillan are publishing my book Career Coach-A Step by Step Guide to Help Your Teenager Find their Life Purpose.
Many books on career advice have a rather narrow focus when helping teens decide which college course to choose. Career Coach is different. By looking at the bigger picture – who they are and what they are good at – Career Coach teaches parents ways to identify abilities, skills and talents in their teenager, as well as their innate passions and values, to realise their full potential.
Career Coach will empower parents to motivate and encourage their teenagers towards their future life dreams, and increase their chances of future employment in a job they were born to do.
As it stands in Ireland, one in six students drop out of their chosen college course feeling disillusioned about their career path and uncertain about their future. This can deal a major blow to their self-esteem, not to mention the financial blow to parents who are paying the tuition fees.
It makes sense to be informed about practical ways to help your child take steps towards a successful future. Career Coach is invaluable for parents of teenagers starting secondary school, selecting subjects after transition year, filling out CAO forms and preparing for their Leaving Certificate results.
The techniques in this book will enable parents to:
1. Adopt techniques that help increase confidence and areas of ability in your teenager
2. Learn how to identify abilities, skills, talents, passions and values in your teenager and use them as signposts to their future careers
3. Know how to motivate and encourage your teenager towards their future life dreams
4. Learn how to practically link your teenager's dreams to reality by getting them to look at the world of work
5. Understand ways to increase your teenager's chances of future employment and encourage a mindset/attitude that can adapt to the changing face of the world of work
6. Learn ways to develop resilience in your teenager and help them turn setbacks into opportunities
7. Know what career resources to use that will identify your teenager's personality, learning style and career interests
8. Find ways to test out the world of work
9. Help your teenager build their inner strength in the face of change
10. Introduce your teenager to the ideas of abundance and creativity
Career Coach will be published by Gill & Macmillan on Friday, 14th August 2015, priced at €16.99. For further information, please contact Emma Lynam, Publicity Executive, on 01 500 9506 or elynam@gillmacmillan.ie.
To pre-order on Amazon:
http://www.amazon.co.uk/Career-Coach-Dearbhla-Kelly/dp/0717168557/ref=sr_1_sc_1?ie=UTF8&qid=1435570793&sr=8-1-spell&keywords=dearblha+kelly+career+coach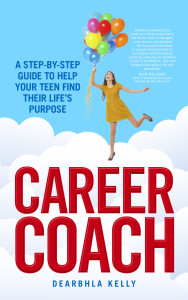 About the author:
Dearbhla Kelly has been in education training and guidance since 1991, working in secondary schools with Cavan Monaghan ETB, in adult education with Donegal ETB and as a careers advisor in Trinity College Dublin. She uses a mixture of life coaching, NLP techniques, and counselling in order to give people practical solutions to find their purpose and follow their career dreams.