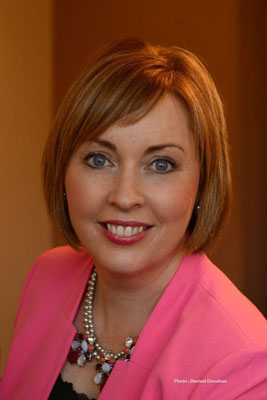 Let me introduce myself. I am Dearbhla Kelly and I am passionate about helping people find and stay true to their life purpose.
I have been in education training and guidance since 1991, but before that, I a lot of my own time and talents was misdirected because I didn't know what work I was born to do. I completed a B.A. degree in Ireland and then went to Japan to do a Masters and to teach. Despite my degree, I had struggled to find my niche or vocation in the world of work. During my time teaching in Japan, however, I realised that my energy was at its highest when helping and guiding young people.
On returning to Ireland, I enrolled in UCD and began my extraordinary journey, learning guidance techniques and ways to help people uncover their life's purpose. Over the years, I have helped countless people to realise their potential and true value, to recognise their skills and to identify their dream careers. As a qualified Guidance Counsellor and Life Coach, I am committed to a growth mindset and to addressing barriers to progress.
My unique work experience makes me specially qualified for my guidance work with teenagers: I've worked in secondary schools with Monaghan VEC, in Adult Education with Donegal ETB and as a part-time Careers Advisor in Trinity College Dublin and other schools and colleges. Having worked with so many varied clients, I have a keen understanding of the different issues and concerns at play throughout the various life stages, from the teenage to middle years.
I use a blend of life coaching, Neuro-Linguistic Programming (NLP), guidance and counselling to help people discover practical solutions to achieving their excellence. The central question I'm trying to answer through my work is, 'How can we find our life purpose and when we do, how we can reach our full potential?
I feel honoured and privileged to work with such a wide range of people in realising their dreams. Clients include teachers, retail managers, guards, artists, business owners and teenagers. What makes me stand apart is my flexibility and direct, yet encouraging approach in dealing with peoples' uniqueness, regardless of background, ability, confidence level or age.
In particular, I'm interested in the positive, inspiring role parents play in their teenager's career choices. I am a big believer that – with the right tools – parents can assist their teens in finding meaningful and satisfying career paths. My recent book, 'Career Coach – A Step by Step Guide to Help Your Teen Find Their Life's Purpose' (published by Gill and Macmillan), demonstrates my passion for this topic.
My work has been covered by The Sunday Times, The Irish Times, The Irish Examiner and many others. In addition, I have featured on the Matt Cooper Show, East Coast FM, Spirit FM, LMFM, Waterford FM, Highland Radio, Dublin City FM and KFM.